Details

Created on Tuesday, 05 November 2013 00:33
It's a really bad idea to open a sports card store. No really, it is. The idea of running a store like that might be appealing to the mind. You get to hang out all day talking sports, be your own boss, make your own decisions, and become a small business owner. The American Dream. I'd generously say that 95% of people who start a sports card store will fail. Will end up losing money. I owned a store from 2006-2008. I worry that the stress of running a losing business at that time took years off my life. I wrote about some of my failures in this February 2013 article. 

There are people who can probably make a sports card store work as a small business. For those brave souls out there willing to give it a try, here are some thoughts and things to consider.

---

Diversify Your Income
Easier said than done. Especially when spending full time running a store. Trust me, you need to find multiple ways to get a check. You have to diversify the items you carry in your store. Here are some quotes from current card store owners I've visited during 2013.


Iowa Store Owner: "Magic The Gathering keeps the doors open, but I love talking sports."

Illinois Store Owner: "Yu-Gi-Oh keeps the doors open."

Arizona Store Owner: "You can't make money selling these new (sports card) boxes. It's not a business, it's a hobby."

California Store Owner: "The margin is so slim with sports cards that you have to do other things like eBay, Magic The Gathering, Comics, lot's of things."

Montana Store Owner: "We do most of our business in coins, it's what we are known for, but the cards are fun and brings in a different crowd."

It would be very wise of you to become familiar with Magic the Gathering, Yu-Gi-Oh, Pokemon and other forms of gaming cards before starting your store. Do at least a month of research and understand what makes these cards popular. You can get these products from the same people you buy your sports cards from, so it's not like you have to set up a bunch of different accounts with distributors. The gaming cards could become over 50% of your total business, so it would be wise to really understand the market for those type of cards.

The ideal situation is have some other "source" of income and not just diversify the products you sell in your store. Like have a website you make money on. Marry someone who makes a ton of money. Organize your own sports card shows and charge dealers to set up tables. Run Magic The Gathering Tournaments. Be a winning black jack or poker player. Do group breaks online. You get the idea.

I'd actually advise finding a different source of income in some other niche or field. Have a source of income completely unrelated to sports cards and your store. Think about the other things in your life that you are passionate and knowledgeable about. There might be a way to turn that into a small (or big) check per month.

 

---

Location, Location, Location
You could get the best retail location in New York City and go broke running a sports card store. You'd spend too much money. Counter that with opening a store in a small town for $300 a month in rent. You might be able to make that work, but you'll never be popping champagne. It's a delicate balance. Paying top dollar for a prime location can break your bank quick. There are reasons why people don't start sports card stores. You typically go broke doing it. You can speed up that process having a few slow months and have $2,500 a month in overhead..... before you buy any inventory.
 
I don't really know how or where to pick a location for a sports card store. I failed. I was in for about $1,150 a month for rent and utilities. Not a huge number, but I also had to live somewhere, eat, pay many other bills, so you can see where it adds up quick. If I had to do it over again I would test out my business at a local flea market or event where I could sell my stuff for a cheap table fee. Get some inventory and give it a test drive for at least a month or more. Get a feel for the area and think long and hard if I could make it work.

Sign a short term lease. Like maximum 1 year. Don't let the landlord sucker you into more years. Retail space is plentiful in so many areas across the U.S. That market has tanked hard. People are begging people to rent retail space in most locations. You have leverage being the business owner in this kind of retail property environment, so don't be afraid to bargain on price either.

Go CHEAP Young Man
Your bills are going to pile up fast. Rent, insurance, utilities, internet access in your store, lunch money everyday, inventory, display cabinets, taxes, on and on. It's not a good idea to open a sports card store, so if you are going to gamble, don't risk too much money.

---

Go Cheap on Your Initial Inventory
Be careful with the inventory you buy to initially stock your brand new store. You really need to get a feel for what people in your local area will buy. You may love Panini Flawless, Topps Triple Threads and big hit products. But your customers may like cheap Topps sets like Series 1, Archives and Allen & Ginter. Do you have a Magic the Gathering or Yu-Gi-Oh crowd? Can you sell board games? Can you sell fan items like keychains, bumper stickers, patches, etc? Save some ammo for your first re-order. I guarantee you will regret buying something from your initial spree to fill your store.

---

Don't Blow Money On Traditional Advertising
There will be many suckers who come into your store to try and sell you on advertising. They range from radio, niche magazines, newspapers, Yellow Pages, sports teams, etc. Don't waste your time with these people. You'll add another $50-100 a month to your bills even going cheap with the ads. Just hustle and you'll get people to come into your store for little to no money.
Buy some cheap paper and print up your own flyers. Talk to people, network, make friends. Most of your business will come from your own local city unless you open up shop in a tourist area. You can get involved in the community without spending money. I'd rather coach a little league team than put my business name on the jersey. I'd rather schmooze up the local newspaper writer and have him write a story about me for free. You can get into the Yellow Pages for free. Nobody listens to the radio, and the shows that are successful on radio you don't have the kind of money to buy ads on. I'd rather create my own podcast/radio show before buying a paid spot on a local station. You can create your own podcast for as low as $5 a month. Believe me, you can get people to listen to your shows with little to no effort.

---

Use the Internet
When I had my store, the last thing I wanted to do when I got home was build an eCommerce site or post on MySpace (stop laughing this was in 2006).  Some businesses use free platforms like Facebook as their solution to reaching customers on the web. Services like WordPress and Blogger make it very simple and easy to create a passable web presence today. I sold a lot on eBay during the years I had my store, several thousand dollars worth of stuff per month. I probably would have created my own web store, but the eCommerce solutions at that time were weak and are now outdated.  Today you can find many powerful and easy to use eCommerce solutions to create your own web store without too much technical skills.

If you have a store, there are several things you can do to help your web presence for little to no money.

RULE 1:
Don't pay anyone to design your FIRST website.  I am being serious. If you know a friend who can help you for free, go for it. Email me and I will give you free advice. Most people who design websites outsource the work to non-U.S. countries. If something goes wrong or you get hacked you'll have no idea what to do. These website guys will also try to lock you into a bad hosting plan as well. Take the time and learn how to do it yourself. Once you've done it and feel comfortable, you can then pay for additional sites or work done on your existing site. Learn how to set up a simple website. That can end up being very valuable for you even if you flunk at your sports card store. 
 
 
Wordpress, Blogger, Joomla or something else?
If you want to post simple daily or weekly content, go with WordPress. It's super easy. Try not to run too many plugins and the ones you do use keep them up to date. If you want just a landing or splash page, where you will post your store information and not much else, you can get away with using Blogger. Using Blogger you'll even be able to re-direct a .com domain to a Google server without paying a hosting bill (saving you at least $5-10 a month).

I wouldn't advise going with Joomla, although it is my favorite platform to use. It's a little more complex and difficult to get started. Sports Card Radio is set up on Joomla. You can customize your web pages in more creative ways on Joomla, but if you just want a simple turn key option go with WordPress or Blogger. I think it's much easier to make your website look "nice" on WP or Blogger, which is important because your site will be a first impression for customers who initially find you online.

There are a lot of help forums and free information about how to set up websites. If you are ambitious enough to start your own store you can set up your own website without any help or prior skills. Search Google or WordPress help forums if you get stuck or frustrated. It's not as hard as it looks, you just have to be patient and open up your mind to learning something new.
Get your customers' email address.
Just trust me. Find a way to do it even if it costs you money. This should be obvious how important this is. Companies like Groupon exist because of email marketing. Think about what you can do by having your customers email address. Build a database and value that thing like gold.
 

You need to go through an online mail service program or your emails will probably be flagged for spam. Browse around and find the one for you, Mail Chimp, Constant Contact, there are other options as well for around $15-30 a month until you build up a huge database of email addresses.

Today, I would have an iPad in my shop, prominently displayed in the store where customers could enter their email address for my store's mailing list. I'm dumb that I didn't do that in 2006, as email marketing has existed since the start of the internet.

  

---

What's Up With Twitter?
If you have a store you should have a Twitter account but don't let it suck your time away. You won't get a huge amount of business off Twitter unless a bunch of people in your local area use it, or you have an online store you can promote. If Twitter was around when I had my store I would probably post pictures of nice cards that got pulled from the shop. It can also be a source of information at times, but again, don't waste too much time building a following.

If you notice a lot of your customers using Twitter you might be able to create a Twitter coupon or promotion, but don't look at Twitter as a revenue maker for you.

What's Up With Zuckerberg's Facebook?
I don't spend a lot of time on Facebook, but I could see it being more successful for driving business than Twitter. For one, you aren't limited to 140 characters and more of your customers will be using Facebook. If I had a store today I would try and post at least a couple things a week about my shop on Facebook and attempt to build a following.

Social Media Tends to be a Fad
Don't spend too much time wasting hours on Facebook and Twitter. Honestly, you should spend more time building out your own website or email list if you enjoy using those social media platforms. Facebook and Twitter could die off just as MySpace and AOL instant messenger did. Be quick to adapt if a new trend arises. Look at other outlets like Instagram (owned by Facebook) and Pinterest (more for female niches) to see if you can use those to your advantage. I can't stress this enough, don't waste too much time with social media unless you intend to start an eCommerce store.  You can still build a decent following on social media sites without spending too much time on them. You can leverage your email list and websites to gain likes and followers.

Side Note
SITES LIKE TWITTER & FACEBOOK HAVE MULTI BILLION DOLLAR VALUATIONS. BOTH COMPANIES COULD AGGRESSIVELY TURN ON THE ADS AT ANY TIME AND MAKE SIGNIFICANT REVENUE. IT SHOULD SPEAK VOLUMES THAT THOSE SITES ARE WORTH BILLIONS. YOU CAN SET UP YOUR OWN SITE AND PROBABLY MAKE SEVERAL THOUSAND A MONTH WITH LITTLE EFFORT ONCE YOU KNOW WHAT YOU'RE DOING.

---

Use Card Shop Finder
Card Shop Finder will put information about your shop for free on their website. I have the Card Shop Finder app on my phone and I use it all the time when traveling. I never would have found the shops in Iowa, Montana, Illinois, Nebraska, Arizona and California without the app and website. I use the app, go to the store, and start spending money. It's foolish if you are a card store and you don't get listed on Card Shop Finder. Did I add that it's all for free? This is what I am talking about "hustling". There are ways to promote yourself for free and get real results.
  

---

Low Ball Everyone Who Tries To Sell You Something
Some days you will get more people who come into your store trying to sell you 1990's cards then you will customers. If you see something you might want to buy (WHICH IS ALMOST NEVER THE CASE), don't pay anywhere close to what it's worth. Most of these people coming into your store need quick cash and will take anything they can get. Literally try and insult them with a low ball offer. If they don't want to sell to you at your price, let them walk out the door..... they'll probably be back later ready to take the deal.
 

---

Don't Expect Any Help
There aren't going to be a whole lot of people who will help you on your journey. Don't expect a phone call from Panini, Topps or Upper Deck. Why those companies don't reach out to the businesses who are selling their product more, I have no idea. Those companies usually try and sucker you into a situation where you have to buy a certain amount of product to get love from them. Buying direct from the manufacture is a good example. So is Panini's Hobby Roundtable. Why don't they have an employee who cold calls card stores everyday regardless how many orders they've placed?

The honest truth that you will come to find out is that Panini, Topps and Upper Deck's real customer is the wholesale distributor. Those are the guys who get comped trips to the NFL Rookie Premiere, VIP Party's, free autograph stuff and more. Panini, Topps and Upper Deck all have the same business model. Sell through the product to the distributor. They don't care how your sales are going.

Topps has many younger employees who probably have no clue how difficult it would be to run a sports card store. Panini has made efforts to help certain hobby stores, but they are also guilty of fluffing distributors like no other. Upper Deck is a real small company now and will probably be sold, pieced off, or go broke in the next few years. Those things take time to unravel.

If you have questions about starting a sports card store you can email me, I am willing to help you for free: This email address is being protected from spambots. You need JavaScript enabled to view it.

---

 

It's Ok to Fail
I actually did do a lot of the tips I suggested when I had my store. A very small percentage of my sales were from sports cards. I had some other small sources of income not related to the store.  I went cheap on a lot of inventory but also blew off a lot of money too.

If you fail at running your own sports card store, don't be afraid to call it quits and throw in the towel. Perhaps you are just not cut out for that type of business, but still want to be your own boss. Figure out why you didn't succeed at running your store. Where could you have saved money or spent more time on? Is there another area of the sports card industry that you could be successful at in some way?

Dust yourself off and come up with another idea. Always remember to diversify your income no matter what type of business you run. Don't ever put all your chips in one basket.

 
 

Ryan T. @SportsCardNews

  

---

Other Sports Card Store Stuff

 
 

---

 
 
Details

Created on Friday, 27 September 2013 16:21
Down Arrows on Topps Since 2007
When Madison Dearborn Partners purchased Topps in 2007 for $385 million it was seen as a solid deal for the private equity firm. That was before the financial collapse of 2008.  Some financial experts suggest Topps is apart of a larger fund that has performed poorly for Dearborn.  It's believed the private equity firm has made severe cuts to Topps' operating costs in an attempt to unlock what value the company has.
Up Arrows on COMC
One misconception about COMC, the online card consignment service, is that the revenue the company makes is tied solely to selling as many cards as possible.  Wrong. I'd pay several thousand a month for access to their database of photos and price information. Why? I could make several thousand more using the data.  Believe it or not, providing sports card information like pricing, checklists, photos, can be a lucrative venture.  But the database of pricing and photos could be used by big pocket online retailers.  Someone like Amazon, eBay, or Beckett Marketplace sellers would love access to perfect front and back scans of millions of trading cards.  I see cha-ching in the future.
A Flawless Peach
Panini Flawless Basketball, which is pre-selling for around $1,400 a box on the retail level, is scheduled to release in early October. It's a very limited product that might be hard to get even at the wholesale level. Rumors popped up that a certain sports card wholesale distributor got more supply of Flawless then rival distributors.  The reason being, the distributor getting the supply had conceptually come up with the idea for the set. Sounds a bit bizarre. Panini and the distributor in question both deny the rumor. A competing distributor also dismissed the idea saying, "I've never heard of anything like that."
College Cards
The push to pay college athletes is at an all time high. It feels like a majority of people believe it's okay to pay athletes competing in college sports.  While it may never happen, or be many years away, the ramifications of paying college athletes could spill over to trading cards. Creating cards of current college stars seems like a turn-key way for the NCAA to finance payments to players. If someone like Topps or Panini could create a card of a player like Johnny Manziel while still playing at Texas A&M..... well, I can see the dollar signs.
Former Upper Deck Employees Still Strong
There is a community of former Upper Deck employees who still keep in touch and remember the old days. This included a recent outing to a San Diego Padres Game. Many former Upper Deck employees have very fond memories of the glory days at the company. It's doubtful that Upper Deck will ever be able to rekindle the magic that made their cards so popular. They've lost so many talented employees and business deals that the mountain might just be too high to climb.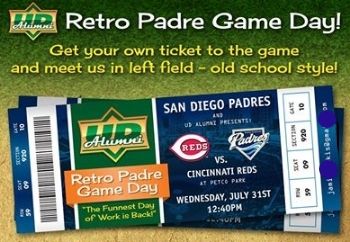 Dipping in Chrome

Topps released Topps Chrome & Bowman Chrome Baseball within two days of each other in late September. It's a questionable move because the sets have a similar following and price point. One wholesale distributor said someone at Topps "messed up and will pay for it." Another distributor said "It's tough, but the content is different."  The content being the Bowman Chrome set features mostly cards of minor league prospects. Prospect cards can not be inserted into the Topps Chrome set. I'm setting the over/under of the employee's age at Topps who made the mistake at 29.5.
Sign of the Times

The L.A. Times had a nice article about a semi-struggling card shop that has break nights at his store in Spokane Valley, Washington.  It hit a little close to home as I was once a struggling card shop owner. Several things struck me about the article. It describes a customer buying a box of cards and getting a Robert Griffin III autograph/jersey card. The box cost $140. There was excitement in the shop because it was thought the customer did well on his gamble. But after going through the article the customer ended up selling the hits from the box for $105. The Griffin III he supposedly sold for $90, a Ronnie Hillman $10, and a Matt Kalil $5.  Spending $140 to get $105 back won't keep customers coming back for more. Even if he kept the cards for his collection, $140 is a fair amount of money for most people in the U.S.  How many people can blow off $140 every other week on sports cards?
One of the reader comments to the article summed what what could become of the sports card industry if things remain bleak: "Reminds me of Beanie Babies."
Ryan can be reached at This email address is being protected from spambots. You need JavaScript enabled to view it. or @SportsCardNews
Details

Created on Thursday, 12 September 2013 16:55
UPDATE - MAY/JUNE 2014

Collectors started to receive their Gold Baseballs in late May - early June 2014. The first one listed for sale on eBay was priced at $5,000 or best offer.

 
 
Letter of Authenticity

THE TOPPS COMPANY, INC.

This letter certifies that this MLB Baseball was Autographed by Hank Aaron, Willie Mays, and Ken Griffey Jr,.

An official representative of The Topps Company, Inc. witnessed the signing of this MLB Baseball.

This letter - with the below signature and holographic sticker - certifies the authenticity of Hank Aaron, Willie Mays, and Ken Griffey Jr. signatures on this MLB Baseball.

This letter coincides with the Serial Number on the ball:

The Topps Company, Inc.

---
The Hype - January 2012

When the calendar rolls around to February each year, baseball fans can start to sniff spring training. It might be cold outside, but thoughts of sunshine, green grass and heading out to the ballpark are shared by many. Topps will wet the baseball appetite by releasing it's first baseball card product of the new year around this time. It's one of the best days of the year for me because it seems like hobby forums and sports card tweeters come to life to give an opinion on the new set.

In 2012, Topps was very active in promoting the Series 1 set that released on February 1st. There were special release day Gold Rush Rip Parties at select hobby stores. The hobby stores who did the Rip Parties got a special "Gold Rush Kit" with pins, stickers, balloons and other items. 10 of the hobby store Gold Rush Kits had a special Gold Rush Ticket that was to be redeemed for a 24K gold infused baseball autographed by Ken Griffey Jr., Willie Mays and Hank Aaron. In addition, inside hobby packs of 2012 Series 1 were 10 randomly inserted Gold Tickets for the same ball.

---

The Gold Ticket - February 2012

Hobby stores and collectors began finding the Gold Tickets. Some hobby stores gave the redemption ticket away to customers. Many Gold Tickets were listed on eBay with the prices ranging from $1,750-$3,395. It's got to be exiting pulling a redemption like this. In fact, on the back of the card, Topps suggests the lucky person should "Tweet Topps and include a picture of yourself with the front of your winning ticket".

The tweeting wasn't really needed to get the ball. All the person with the Gold Ticket had to do was:
Follow detailed instructions on ticket back, send ticket in, wait patiently for 8-12 weeks and your prize ball will arrive! 
 
Photo: Beckett Article
 

---

When 8-12 Weeks turns into 52 Weeks - January 2013

As 2012 rolled on Topps released many more baseball products and if you weren't one of those with the lucky Gold Ticket, you could probably care less about the ball. The people waiting for the Gold Ticket redemption though, started to wonder what was going on.  They waited the 8-12 weeks but no ball showed up. When the clock struck 2013 many were going on a full year waiting for the Griffey Jr/Mays/Aaron ball.  Topps isn't the easiest company to get a hold of in regards to customer service. I don't think it's a reach to say that. While it is possible to get someone on the phone during east coast business hours, the wait time can be long and many people don't have time to call as they are more than likely working themselves. Emailing Topps customer support can be very spotty at best. Topps has various social media accounts like Twitter and Facebook, but in general, the employees in charge of running those accounts are not involved in the customer service side of the business. While these employees can be of assistance at times, it could take many tweets and Facebook messages to get a response.

In January 2013, on sports card forum Freedom Cardboard a collector recounted a story he heard from a hobby shop owner who had a Gold Ticket and also knew of another customer who had two Gold Tickets. While it's unclear which person got fed up with waiting for the ball to get signed, apparently as a replacement for the ball, Topps sent the Gold Ticket holder "cases" of 2012 Topps Archives Baseball. Archives is a mid-low end product that appeals to collectors who like the card designs from the 1970's and 1980's. Many posters on the Freedom Cardboard forum, a well respected community of collectors, didn't seem to think that was a fair replacement for the Griffey Jr/Mays/Aaron ball.

On January 17, 2013 a collector who was waiting on the ball emailed me about his frustration. Despite numerous attempts to contact Topps customer support, through phone calls and the internet, the collector's questions were falling on deaf ears. At one point the collector even mailed a letter to the Topps office in hopes of a response only to be let down once again. On the back of the Griffey Jr/Mays/Aaron ball Gold Ticket it says to: "Smile, celebrate, make some noise!!" This collector wasn't smiling as he was going on 50 weeks waiting for the ball to appear on his doorstep. 
  

---

Topps Has Balls - February 2013

Through some prodding of fellow collectors, and maybe a little jab from myself, a (now former) employee of Topps uncovered a picture of the ball. It had been freshly signed by Willie Mays and the hopes of Griffey Jr and Hank Aaron signatures awaited.
 
  

---

Hank & Kenny out to Lunch.... Kinda - May 2013

I continued to correspond with the collector who emailed me from January. In hopes of getting some news on the ball I put in a call to Topps to see what was going on. Indeed the balls had been signed by Mays but Griffey Jr and Aaron had yet to sign them. There are only a few decision makers at Topps and generally speaking they aren't the ones picking up the phone. It's best to treat the few Topps customer service reps they have with respect as they can give you some information on your redemption or issue.

One interesting thing of note is that Hank Aaron, Ken Griffey Jr and Willie Mays have "live" autographs available on the market that were redemptions in the original product in 2012. Meaning some redemptions for those three players have been fulfilled. Unfortunately Topps has not been able to get all three to sign the 2012 Topps "Gold Ticket" 24K Baseball. Many collectors experience this frustration with other cards and players. At times collectors can be waiting for a redemption, but the athlete has signed cards that are going into new products. Topps doesn't fulfill it's past obligations before cranking out new sets. 

---

Take the Summer Off - June - August 2013

Topps had a staffing shakeup in the summer of 2013 that saw several employees leave the company. On the customer service side, the impact appeared massive. Topps began telling customers that redemptions would take an extra 5-6 weeks to be fulfilled because of the staffing need. Many collectors were already waiting over a year for some redemptions so the 5-6 week message was perplexing. Communication coming out of Topps is poor. While they have a strong following of people on some social media sites, they generally use those for promotional purposes only. Getting nuts & bolts information out of Topps can be like trying to crack a safe. If you have an issue with Topps it can be difficult to know what to do. The customer service employees only have limited information on items waiting to be redeemed. The customer service employees can't get Hank and Griffey to sign the ball. There are employees at Topps who do have that obligation and job title to acquire autographs. Mays, Griffey and Aaron have signed cards for Topps since 2012. There might be a somewhat good reason why the ball hasn't been signed but Topps has not communicated with it's customers what that reason might be. 

---

Around this time period Topps sent out, what they said were 10,000 "replacement autographs" to customers waiting for redemption cards. Doc Gooden, Gary Carter and other mid-tier athlete sticker autograph cards were sent out in mass. Some collectors got the better end of the deal, happy to get something for a card they were waiting on.  Others were disappointed and wanted the item they were originally promised. Collectors did not have a choice to get their cards redeemed for the replacement autographs. Topps just sent out the replacement cards without first contacting the customer.

Not every collector waiting for a redemption card got one of these replacement autographs. Thousands of collectors are still waiting for cards to be redeemed by Topps, including those waiting for the Griffey Jr/Mays/Aaron ball.

---

We Have No Balls - September 2013

I put in another fresh call to Topps in early September to see if there was any update on the 24K ball. Perhaps Aaron or Griffey had signed it and there would be good news to share with the collector who had been emailing me. Unfortunately there was no news on the ball. In a few months it will be 2 years since many collectors got the Gold Ticket.  It's got to be incredibly frustrating waiting for Topps to come through on their end. What a shame that in nearly 2 years only Willie Mays has signed the ball.

It doesn't give collectors or those involved in the industry a very good feeling about the employee talent level at Topps. And I'm not talking about the people who pick up the phone. They do their job as well as they can. It's the upper level management and decision makers at Topps who don't empower their lower level employees to help customers. The decision makers at Topps also don't have a grasp of the costly nature of redemption cards. Having a "backlog" of redemptions (liabilities) is not a good way to run a business. That is why Topps sent out the 10,000 replacement redemption cards. They knew it was dumb on many levels to have those cards waiting to be redeemed. It was probably more of a business move than a customer service gesture. Funny thing is, 2013 Topps products are filled with redemption cards. The problem hasn't been fixed or solved for the end customer. In another couple years they may have to do the same thing and issue a bunch of other replacement cards if decision makers continue their laziness. I wouldn't advise anyone to buy a Topps redemption card. They'll just send you whatever they see fit in a couple years. 
 
 

---

Ryan - @SportsCardNews
 
 
Details

Created on Thursday, 29 August 2013 18:56
 
 

I've spent the last few weeks watching a multitude of "group breakers" on Vaughn Live hawk their items for sale.  The group breakers are performing the break, live, on the free streaming website. There is a chat box so that everyone watching can comment or bargain with the breaker. On any given night, there can be upwards of 25 different group breakers on Vaughn Live all essentially doing the same thing. Most breakers can get between 5-50 people watching their break at any given time.

1) Most don't handle valuable cards properly

For one, these guys need to learn how to handle the cards themselves. Stop getting your fingerprints all over the cards! Do some of you "group breakers" out there realize that when you send a card in to get graded if your greasy fingerprint is on the card that it impacts the final score? The base cards you can grease up with your fingerprints, but hold valuable cards on their edges and do not touch the surface.

2) Back Ally Breaks

Most of these breaks are going down in some cheap looking 1 or 2 bedroom apartment. Guys, here is a tip, turn the camera away from you when you look like a scrub. I live in one of the most dangerous cities in the United States and some of these group breakers could live in my hometown with how they act, dress, and communicate with their customers. Many will curse, many will mouth off to people in the chat room, some will even brag about how much money they just made. In addition, there is usually some bad 1990's "FAKE Pearl Jam" rock playing way too loud in the background.  If they actually listened to Pearl Jam I'd have more respect for them. But listening to bands imitate Eddie Vedder and crew is painful.

One person in the industry called these group breakers innovative. I doubt he has ever spent a few weeks watching these guys try and break cards on Vaughn Live.  Setting up a $20 webcam and begging the 12 people "in a room" to buy into a break is far from innovative.

3) Some are conducting illegal raffles

Some "breakers" on Vaughn Live will conduct illegal raffles where they use random.org to select the winner of their raffles. One breaker gets pictures of cards on his cell phone from someone who wants to "raffle" a card. The breaker will then conduct a raffle for the card...... even though he doesn't even have the card in his possession. Typically they sell 10 spots in the raffle for $5-20 depending on the value of the card. Once 10 people pay, the breaker conducts the raffle on random.org. One person wins, the rest are left with nothing. Conducting this type of business is illegal in every state in the United States (even if you the breaker are not making any money). I challenge any breaker to prove selling cards in this manner is legal.

There are private Facebook groups called names like "Jam & Jelly" where they will do these raffles in a more private setting. I really don't have a problem at all with gambling. I wish that online poker was legal and regulated. I like to bet on sports when in Las Vegas. But if you choose to do illegal, non regulated forms of gambling, do it in private. Idiots.

4) Many aren't breaking cards, they are trying to fill spots

It's amazing how much work goes into filling a break for some Vaughn Live group breakers. They will spend sometimes hours sitting in front of the camera trying to fill spots in their break. I've spoken (using unprofessional curse words) about how hard it is to scale a group breaking business. It takes time opening the product live on camera, it takes time sorting the cards, it takes time shipping the bubble mailers. To make a lot of money you'd have to break almost 7 days a week. For some, it takes days or even weeks of promoting, tweeting, and being live on camera to try and fill a break. You can't really go to Vaughn Live to watch cards being opened, but you can go there to watch people try and sell spots in a break.

5) Drama

One night, a breaker got his PayPal account shut down. He was running illegal raffles and PayPal froze his account. The kicker was quite a few of his customers also got their PayPal account frozen too. To show you how dumb these breakers are who run the illegal raffles, they will use PayPal to receive payments for the raffles. Instead of paying the PayPal transaction fee, they ask their customers to send payments via "Gift" which charges no fee on PayPal. But, they then make each person send a $0.01 PayPal payment via the normal "Goods" option which does charge a fee. This is so they get the shipping information for the buyer if they win the raffle. It also allows the buyer and breaker to be covered under the PayPal buyer protection policy.

If you know anything about PayPal, they have a filter where they can see all the $0.01 transactions processing through their database. People who work at PayPal know that there is very little reason to send someone $0.01.  More often than not, if you send someone $0.01 on PayPal you are doing something shady to try and skirt the fees PayPal charges. PayPal could probably care less that they are running illegal raffles for worthless sports cards. PayPal cares when you are trying to take money out of their pocket. Pretty simple. Dummies.

On another occasion, a breaker had the feed on his Vaughn Live glitch just as he was showing the random.org results for who won his raffle. The chat box lit up that something was amiss. The look on the breakers face was priceless. He had no idea what to do. Relying on a free streaming service like Vaughn Live will cause these problems. The video quality sucks. The webcams some of these guys use suck. They typically don't have a backup camera going in case a problem arises. Clowns.

6) Breaking cards on camera is not innovative

If it was so innovative why does a new breaker pop up everyday? They all essentially do the same thing. Anyone can buy a webcam. Anyone can sign up for the free Vaughn Live. Anyone can buy from a distributor with the proper tax I.D. number. Some of these guys look like they just got off the graveyard shift at the lumber yard. These aren't "tech" guys. Many can barely work their webcam properly to show the results on random.org or the cards themselves. Many breakers only use Vaughn Live. They have no physical website. They have nothing proprietary. Zero. Nothing. They bought a webcam. They bought a case. Then they started to hawk spots on Vaughn Live. That isn't a great business model. That's a business model any lumber yard worker could copy.

7) Big ego's

I get the impression some of these guys think they are "celebrities" of sorts. The breakers who get 50 people in their room usually have the camera turned toward them so you can see their face (and usually their scrubby apartment). I've seen breakers rap to music on camera. I've seen breakers act like they are on their phone, but they have their eyes glued to the chat box to see what the people in their "room" are saying about them. Some breakers will make cocky and snarly remarks to people in the chat box. One breaker had his wife come in, look down disgusted at the cards on the table, and asked the breaker when they were going to lunch.

I've personally been around some of these guys at events like the Las Vegas Industry Summit and the National Sports Collectors Convention. Many don't realize that the sports card industry is a weak business. Distributors and manufactures will fluff and blow you for buying product from them. It doesn't make you a celebrity.

8) Legit vs. Shady

Some group breakers have a cordial relationship with other breakers. They will buy into each-others breaks or (illegal) raffles. But you can tell there is a hierarchy of sorts in terms of group breakers. Many of the breakers who have physical websites, or have been doing breaks for a long time, seem to run things legit and honest. Only a handful of group breakers on Vaughn Live conduct illegal raffles. I get the feeling that the group breakers who do try and run a legit business, and stay away from the (illegal) raffles, have a negative attitude toward the shady breakers. The shady breakers take business away from the ones who do things legit. I'm actually stunned that group breakers who do run a legit business don't take a harder stance with these shady ones. The competition in the group breaking category is only going to increase if the distributors and manufactures don't limit who can buy this stuff at the wholesale level. If I ran a legit group breaking business I would try and expose the shady characters. It's not personal. It's business.

9) Leaving Money on the Table

These guys could make more money. In the last year I've made $400.00 in ad revenue on YouTube by posting a few videos. $400.00 is pennies. I know that. But these group breakers are cranking out videos each day, hour by hour. They could easily make several thousand a year by uploading their videos to YouTube. When has Vaughn Live cut any of you group breakers a check? Google will cut you a check. What some of these "innovative" group breakers probably don't know is that they will need to properly title, tag, and write good descriptions on their YouTube videos to make good money. It will also help to link to your videos on a physical website. Many of these breakers don't even have a website so the prospects of them making an extra grand or two on YouTube is probably hopeless.

Why don't they sell other things besides spots or (illegal) raffle items? I guess some do. If I had a group breaking site I'd have a bunch of other crap for sale too. Supplies, individual packs, full boxes, full cases, I'd start to build inventory. I'd create an online store. I'd run affiliate ads to eBay, Amazon and anyone else who wanted to cut me a check by just putting a link. These breakers have a base of customers. They have people who trust them. Take more of your customers money. And do it before there are 100 breakers doing the exact same thing you are doing on Vaughn Live.

10) I'd buy into some breakers breaks

There are some group breakers who are running a good business. They treat their customers good. They have backup cameras in case something goes wrong. They have real websites. Quite honestly, some of them are good guys. People I would trust not only with a break, but in life. It's the scummy shady guys on Vaughn Live that hang a dark cloud over the group breaking industry. The distributors and manufactures don't care if some of the breakers who buy from them are scum bags. Most distributors make most of their money selling Magic the Gathering, other gaming cards and board games. They could care less if some scum bag on Vaughn Live wants to illegally raffle off some spots in a group break. Until there is some cleanup and some of the shady group breakers get wiped out of the business, group breaking will be looked down upon by many people in the industry.